European DIGITAL SME Alliance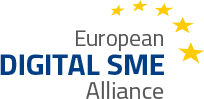 Alessandra Zini
This email address is being protected from spambots. You need JavaScript enabled to view it.
The European DIGITAL SME Alliance is the first and largest European association of the ICT sector exclusively focused on representing the interests of SMEs. The members of the European DIGITAL SME Alliance ("DIGITAL SME") are national and regional sectorial SME associations from EU member states and neighbouring countries, as well as SMEs through its Innovators Club. With its 30 member associations, DIGITAL SME represents more than 45.000 enterprises across Europe.  
Most of the SMEs that the European DIGITAL SME Alliance represents are the so-called "SME digital enablers", i.e. those that transfer technologies and offer a range of services to other SMEs in order to enable the digitisation in other sectors. DIGITAL SME reaches out to its members, disseminates relevant information, and engages them to the EU-funded projects.
The key pillars of DIGITAL SME's work are policy, B2B and projects activities.
In the smart cities domain, DIGITAL SME is currently